Basmati is a unique type of rice, originating from the Indian sub-continent, particularly from the foothills of the Himalayas. Basmati is notable for its distinct aroma-a result of a chemical content called as 2-Acetyl-1-Pyrroline.
Basmati rice is available in white and brown versions with brown being more nutritious than white. The best part about basmati is the unique aroma. But it is also valued for its nutritional contents and health benefits.
These are benefits of best basmati rice: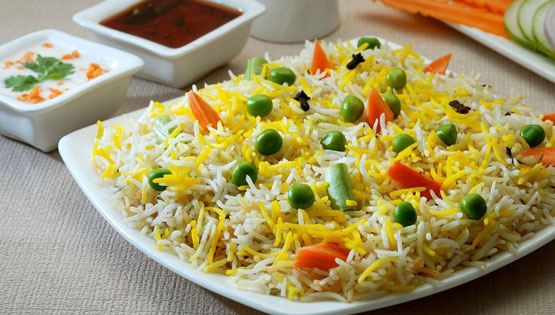 Calories: A ¾ cup serving of Basmati is made of 150 calories. Most of this comes from carbohydrates and a little from proteins. Thus, it provides instant energy.
Prevents cancer: the outer skin of basmati is very healthy. Unprocessed brown basmati contains more fibre and vitamins that help prevent cancer.
Suits diabetics: According to various studies, basmati has lower glycaemic index than other types of rice. Thus, it is suitable for diabetics. Glycaemic index depends on digestibility of fibre, fat, proteins and starch. Carbohydrates that are digested slowly produce low glucose levels. Aglycaemic index of low score (< 55) helps lower blood glucose levels. Basmati rice has 58 Glycaemic index.
Suits dieting: Basmati is very low on fats and cholesterol. It also contains a carb known as Amylose which is not easy to digest and provides a heavy feeling in the stomach, thus checking your urge to snack.
High fibre: Brown Basmati has 20% more fibre than other types of rice. High fibre aids in the process of digestion.
Alleviating constipation: The fibre from Basmati helps retain water in the digestive tract. This fibre softens the consistency of stools and helps relieve constipation.
Prevents haemorrhoids: High fibre content helps ease the working of the rectal muscles and lowers pressure on rectum, thus preventing haemorrhoids.
Prevents cardiac problems: Being low in fat, cholesterol and sodium, it helps in maintaining cardio-vascular health.
Basmati rice is not only aromatic; it has a fluffy texture and a delicious taste. Here is a recipe for preparing organic basmati rice India.
Pilaf of Basmati Rice with Peas
Ingredients:
Basmati rice-1 and half cup
Vegetable oil-1 and a half tablespoon
Black mustard seeds- 1 and ¼ teaspoon
Yellow onion, diced finely-1/2 cup
Cardamom pods-6
Whole cloves-8
Cinnamon stick-3 inches
Simmering water- 2 and 1/4 cup
Kosher salt-1 and ½ tsp
Black pepper, freshly ground: ¼ tsp
Lime juice, fresh-2 tsp
Green peas, frozen-3/4 cup
Method:
Keep rice in mesh strainer and rinse with cold water multiple times. Drain and set aside.
Heat up the vegetable oil inside a big saucepan on medium to high heat until it starts shimmering.
Add mustard seeds and cook for 20 seconds when it starts to pop.
Add onion and sauté for 3 minute till it is slightly brown.
Add cloves, cardamom, rice, cinnamon, simmering water, lime juice, pepper and salt. Bring to a boil.
The heat must be reduced and the mix allowed to cook till liquid is absorbed, which may take 10 minutes.
Add the frozen peas and allow to cook on low heat for 8 to 12 minutes.
Remove pilaf from heat and allow to stand uncovered for 5 minutes.
Discard cloves, cinnamon and cardamom.
Fluff pilaf with fork. Serve hot.
These are some aspects about Basmati rice.